An Enlightening Look Into Our Garden Coaching Services
Our garden consulting services allow you to take an active role in achieving the garden of your dreams, regardless of your past knowledge + experience. 
We'll teach you how to fight climate change, increase local wildlife habits, and enhance the aesthetic of any home landscape with the best sustainable garden practices and native plant selection. Here's an enlightening look into this process and what you can expect from us as your one-on-one garden coach! 
You want a beautiful, sustainable garden but don't know where to start. In just one session with our garden coach, you'll receive a depth of local knowledge and a definitive plan for turning your landscape into a gorgeous, thriving wildlife habitat that contributes to a greener world!
Ready to learn about your current garden and receive artistic inspiration in your garden design with fresh, new ideas for 2023? Let's get right into it. 
What is a Garden Consultant?
A garden consultant, a.k.a. garden coach, is a partner in your personal gardening journey. 
As individuals with years of experience and a blooming passion for gardening, they work with you in making some of the most critical decisions relating to garden creation, like:
Sustainable garden prep.

Native plant selection vs. Non-Native Plants

Best Planting Practices

How to Grow Fruits + Vegetables

Garden Maintenance

Landscaping Do's & Don'ts
Designing your own garden can be intimidating, but with a little direction and a handful of helpful tips, our garden coach will eliminate the guesswork while filling voids of knowledge. It's like a personalized class on how to garden, specific to your situation & desires!
Garden consulting is, however, not garden design. Instead, it is a source of knowledge and inspiration for you to take and design, plant, and maintain your own garden. 
Gardening Consulting Services: How it Works!
Interested in starting or adding to your sustainable garden?
After contacting us to set up your coaching session, here's what it's like when you work with Sacred Space Gardens:
Let's Meet!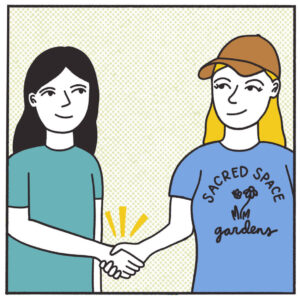 We first start by getting to know you. We'll either meet in person within the Twin Cities, MN, or we can opt for a virtual Zoom meeting. We'll chat about your current home landscape and gardening knowledge to help create a personalized plan of action that you can implement. 
Our garden consulting session typically lasts 1-2 hours 
We'll Make a Plan
After 1-2 hours of discussion and teaching, your garden coach will then get to work on this custom plan, delivered via email in just 3 days. Your discussion and strategy will address the following questions & common difficulties surrounding sustainable gardening:
Soil Testing
The soil is your garden's foundation; it's a direct access point to nutrients, water, and air. Sustainability starts with the soil, as the soil is a critical element in fighting climate change in its ability to:
Grow food + wildlife habitat

Purify water

Combat flooding 

Store carbon + decrease greenhouse gasses
Understanding the current state of your soil's health is critical to move forward with your garden. We'll teach you how to perform a soil test and tell you what to do based on those results. 
Native Plant Selection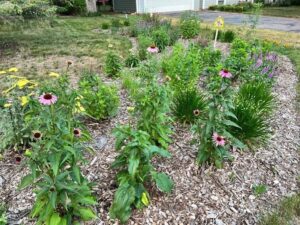 We'll share a custom list of the ideal native plants for your garden. Native plant selection ensures a symbiotic relationship between the soil, the plants, and the wildlife. Because they are native, they don't require the same levels of care and attention (such as harmful fertilizer or pesticide) as non-native plants, and their root systems are keystones to sustainability. 
Not many people realize that some of the prettiest plants often give no benefit to pollinators. A big, blooming flower doesn't always represent a flourishing source of pollen. 
You'll learn all about the role of native plants in sustaining pollinators, the difference between native and non-native plants (cultivars and hybrids), and how to create a garden that balances beauty with sustainability. 
Not sure where to buy native plants? Don't worry; we have all the resources and will point you in the right direction. Your garden coach will teach you exactly how to plant these plants with step-by-step instructions and will provide a guide to watering your new garden. 
You'll know everything there is to know about native plants and their relationship to climate change + sustainability. You can then pass this information along to others, acting as another powerful voice for a greener world!
The Benefits of Mulch

Mulch is critical to a sustainable garden, helping to:
Decrease water evaporation (thus, a garden requires less water)

Suppresses weeds

Regulate ground temperature
With gardening consulting, we'll talk you through different mulch options for your current home's yard. 
Sun Exposure + Native Plant Placement
Your garden coach will provide insight into ideal plant placement based on the sunlight exposure of your landscape, a massive influence on how you design your garden. We'll help you discover sources of inspiration to create the garden you've always desired. 
Pest Issues
Sustainability means contributing to local wildlife habitat, but that doesn't mean pests won't present particular issues. As a sustainable gardening coach, we only share the safest, most ethical approaches to eliminating common pest issues in your garden. 
We'll make definitive product recommendations that don't harm the environment and provide advice on how to avoid pests while attracting pollinators!
Sustainable Landscaping
How do I best maintain my grasses with my sustainable garden? Should I choose mulch or rock? Should I use landscaping fabric?
Our garden coaches have all the tricks and tips in the world and is eager to share them with you. Your garden coach will talk you through every garden peculiarity, such as how we so passionately prefer mulch over rocks or why you should avoid/remove landscaping fabric. 
For beginner gardeners eager to learn more about sustainable landscaping, a garden coach is a wonderful next step in expanding your knowledge. 
How to Grow Fruits + Vegetables!
We'll help you decide whether to plant your fruits + veggies in a raised or ground-level garden bed and instruct you on achieving a garden that fills your family's bellies with organic food grown by your hand. 
Our garden coach will provide step-by-step instructions on how to start your garden bed, outlining:
Where to Place the Bed

What Types of Edging to Use for your Garden Bed (brick, stone, metal, plastic, natural, etc.)

Garden Bed Preparation
Composting
New and existing plants thrive on organic compost. Your garden coach will provide insight into utilizing compost within your garden space, teaching you how and when to compost and incorporate compost into the soil!
Tying it All Together
Want to work with us as your garden coach in Minnesota? We can't wait to share our passion for sustainability and enlighten on sustainable gardening practices' importance. 
You'll receive a custom guide on creating the sustainable garden you've always wanted, with all the information needed to tackle it on your own. You will learn all about native plants, how to plant + care for them, and how to design your garden with this newfound information in mind.
If you're a DIYer or someone with little to no gardening experience looking to tackle this project on your own, garden consulting will outline precisely how you can achieve sustainability in your home landscape. 
That said, sometimes, we don't have the time to take on a new garden project. If you're looking for more than just a helpful hand in your personal gardening endeavors, we offer every possible sustainable gardening service in Minnesota. From eco-friendly garden design to installation, we're just a phone call away. 
Want to Become a Garden Coach?
Does helping people learn about sustainable gardening practices sound like an enticing career path? Our gardening franchise opportunity will direct you toward a successful, sustainable business model that contributes to a greener, healthier world. 
Being passionate about your work is one of the many benefits of partnering with an eco-friendly franchise. Our franchisees love what they do, and we're there every step of the way to ensure their Sacred Space is backed by a caring, supportive community and a thriving name in sustainability. 
Join our franchise, and you join a mission to combat climate change.