What Style of Compost Bin is Right for Me?
Don't be confused by the plethora of different compost bins on the market. There are so many different styles and sales pitches out there.
Honestly, almost any system will work – as long as you're going to actually use it! This could be a wooden structure, a tumbler, a wire bin, or a pile in your yard.
The key is to do what is right for you and your family, and something that you'll stick with.
Choosing a Bin
I've compiled a list of compost bins (all different styles), along with notes about each style, so that you will have all the information you need to make an educated decision about which compost bin you like. My favorite is either a wood bin, or wire. It's so easy to use, add to, and move if needed. Plus they are usually the most affordable.
Your Bin Should have:
1. Holes for Air Flow
2. Roughly 2 by 3 feet wide
Here are a list of types of structures out there and their pros and cons:
A Tumbler 
Pros:
Some have two barrels, like the one pictured, some have one big barrel.
Tumblers are easy to mix, thus faster breakdown of material
Looks neat and tidy
Cons:
2. A Wooden Structure
Pros:
Looks appealing, mostly tidy
Easy to dump contents into it
Easy to open
Can build yourself
Cons:
Harder to mix
Critters get into it
3. A Wire Structure
Pros:
Easy to Set Up
Can build yourself
Very Affordable
Tidy appearance
Easy to move
Cons:
Critters can get into it
Can cut your hands on the wire if not done properly
4. An Open Pile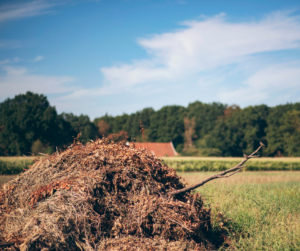 Pros:
Easiest method
Good for larger properties
Great for the soil underneath and around the pile
Holds a lot of waste
Cons:
Not very appealing
Not very tidy
Need larger property
5. A Plastic Bin
Pros:
Neat, Tidy appearance
Easy to add compost to it
Cons:
Can move it (not very easily though)
Can be difficult to get compost out of it, once it's finished
 6. A moveable structure
Pros:
Lightweight and can move easily
Good for temporary placement or long term (for example, you live in a rental property and will be taking it with you when you move)
Looks tidy
Cons:
Critters could possibly cause a mess
7. Lasagna Method
Pros:
Great for creating a new perennial bed
Easy way to add nutrients
Cons:
May need a larger property
Takes more effort
I can see where people get confused about how and what to do with their compost. I mean, how many more styles of composting are people going to dream up?
Choose the system that you will use for the rest of your life (of course you can change systems — I have before!) but choose one you know you and your family aren't going to abandon in the back corner of the yard and then list it "Free" on craigslist eventually.
Remember, Composting is easy, and it's critical to helping our planet.
Here are links to my favorite styles: